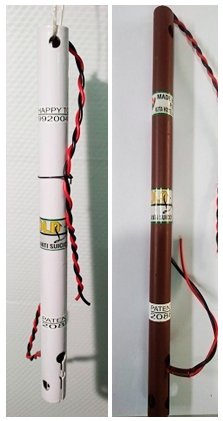 We manufacture and supply our patented and MSME tested 'GOLD Life' Smart Fan Rods. The rod is available in standard and different sizes (lengths). The standard fan rods are available in length 10" (250 mm). The others lengths start from 12" (300 mm), 15" (375 mm ) and so on up to 5 feet (4500 mm).
Like wise the rods are also available in standard colours; White / Brown / Ivory. Other colours, including metallic, are made to order
We also offer fitting services of our Smart Fan Rod for replacing existing fan rods in the large premises like Hostels, Hotels, Residential Quarters, etc. We Follow Best Practices to carry out installation, with consideration of safety and long lasting trouble free operation of fan and the rod. (Refer installation instructions under).
Invented by an Electrical Engineer.
It is patented, Patent no. 208859, granted in 2007.
Duly Tested in Govt. India's MSME Labs in Mumbai for Mechenical, Electrical & Chemical Tests.
Can be fitted for any Brand of Ceiling fan like Crompton, Orient, Usha, Bajaj, Havells, etc. or Local Fan.
Apart from standard length of 10", can be made for length more than standard, at request.
Available in standard colours viz. White & Brown. Can be supplied for other colours, including for decorative and metallic fans, at request.
Start up Project awarded by Mahindra & Mahindra, as part of winner of Spark The Rise, innovation competition.
Best Practices for Fitting Ceiling Fan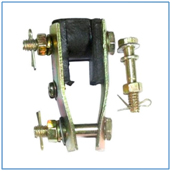 Instructions for Shackle use:
For hanging ceiling fan, use good quality Shackle, with Bolts, Plane Washers, Spring Washer. Quarter Pin (Spit Pin) and Rubber pad. Some shackles also come with Lock nut that is to be fitted over main nut for extra safety.
Some shackle even come with earthing screw, as seen in picture. In order to prevent accidental electric shock, use this screw to tie earrthing wire, as best practice.
Avoid shackle with thin bolts and without spring washers.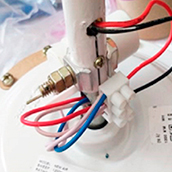 Instructions for fitting Smart Fan Down Rod on Fan Motor
For fitting 'Smart Fan Rod' on fan motor, it is recommended to use Safety Screw, which helps avoid jerking of fan thereby prevent wear and tear of the pipe and bolt. Thus, help prevent fan falling down, life time. Also, as seen, use Aluminium Fasteners (Clamps), if available, to give extra strength to pipe.
As best practice, on the bolt, always fasten two nuts, one main nut and other lock nut with plain washer and spring washer and use Quarter pin (Split pin)- expanded properly.
Use of the split pin is a must. It supports nut in case it becomes loose and ensure nut remain there even it is loose during running and prevent fan to fall down.
In order to ensure safe operation of fan and the rod life time, we strongly recommend the following instructions for fitting 'GOLD Life' Fan rod:
Installation Instructions:-
Ensure that all the bolts used for fitting fan are in good condition and not worn  This included  bolts for Shackle (Julla)'s top and bottom.
Ensure rubber pad used in Shackle is not worn out and is in good condition.
Ensure Quarter pin (Split pin) is fitted well for all the three bolts- Very Important
Ensure Safety screw, if provided with fan is also used. This gives backup protection.
Ensure that Aluminium Clamps, if provided with new fan or already fitted in existing rod, are also fitted again for long life operation.
While fitting fan, handle it carefully. Ensure that fan is not pulled down after fitting. There are chances that electrician will hold the fan as a support while coming down from ladder or stool. The undue load on fan may loosen the joint and may open in few days.
After fitting Smart Fan Rod, fan has to run for at least five to ten minutes. If possible, run fan for 24 hrs, before occupying the room.
If fan is wobbling or giving jerk on rod at the time of switching it ON or OFF, then try to fit all fasteners well or change the fan. Jerking or wobbling fan may damage rod in long run.
Periodical Check and Cleaning of Fan time to time
While cleaning of fan, ensure that not much pressure is applied on the fan. Use of tall stool or ladder will help reach fan easily and avoid undue pressure on fan blades while cleaning.
During operation, if fan is found to be making noise, or giving jerk while switching it on, or pipe has opened and the fan is still running then immediately switch off the fan and replace the rod with other Smart Fan Rod after taking corrective actions.
Old fan or fan having bearing jam have tendency to run slow and give jerk to rod. Also, fan with bent blade is likely to wobble while running. Such fan conditions are likely to damage the Smart Fan Rod, which may open due to continues jerks or vibrations.
Fan Cleaning, ensure stool is tall enough to avoid undue pressure on fan, fitted with 'GOLD Life' Fan Rod.
Over all,  keep watch on the fan at a regular interval. Stop the fan and take immediate action on complain on fan or above symptoms are observed.
DO NOT RUN THE FAN Till the time complain is resolved to the satisfaction.
Help Lines:
Call us for support
Sharad Ashani: +91 9920048875 (This no. is also seen on the rod)
Gaurav Ashani: +91 9820826659